Developer Update March 2018
PriceMole An easy-to-use solution that automates competitor price tracking, repricing, drop shipping and more for you!
In the last month we have added many new features as well as performed many improvements to the apps backend:
LOAD TIMES FOR PRODUCT/COMPETITOR PAGES
If you have been using the app over the last months you might have noticed the load times for pages increasing and it was getting harder to use the app. The team spent many hours enhancing the overall performance of the app. We are proud to say we are currently tracking more than 100,000 websites successfully across the globe and load times are faster than before :)
AUTOMATICALLY MARK YOUR PRODUCT OUT OF STOCK
In the advanced section of Price Strategies you can now specify when to automatically mark your product out of stock. For drop-shippers this is key, add the domain name of your supplier, when they go out of stock, your product will be marked out of stock as well. Make sure that you don't have the option to continue selling after you are out of sock checked on Shopify.
FILTERING FOR NOTIFICATIONS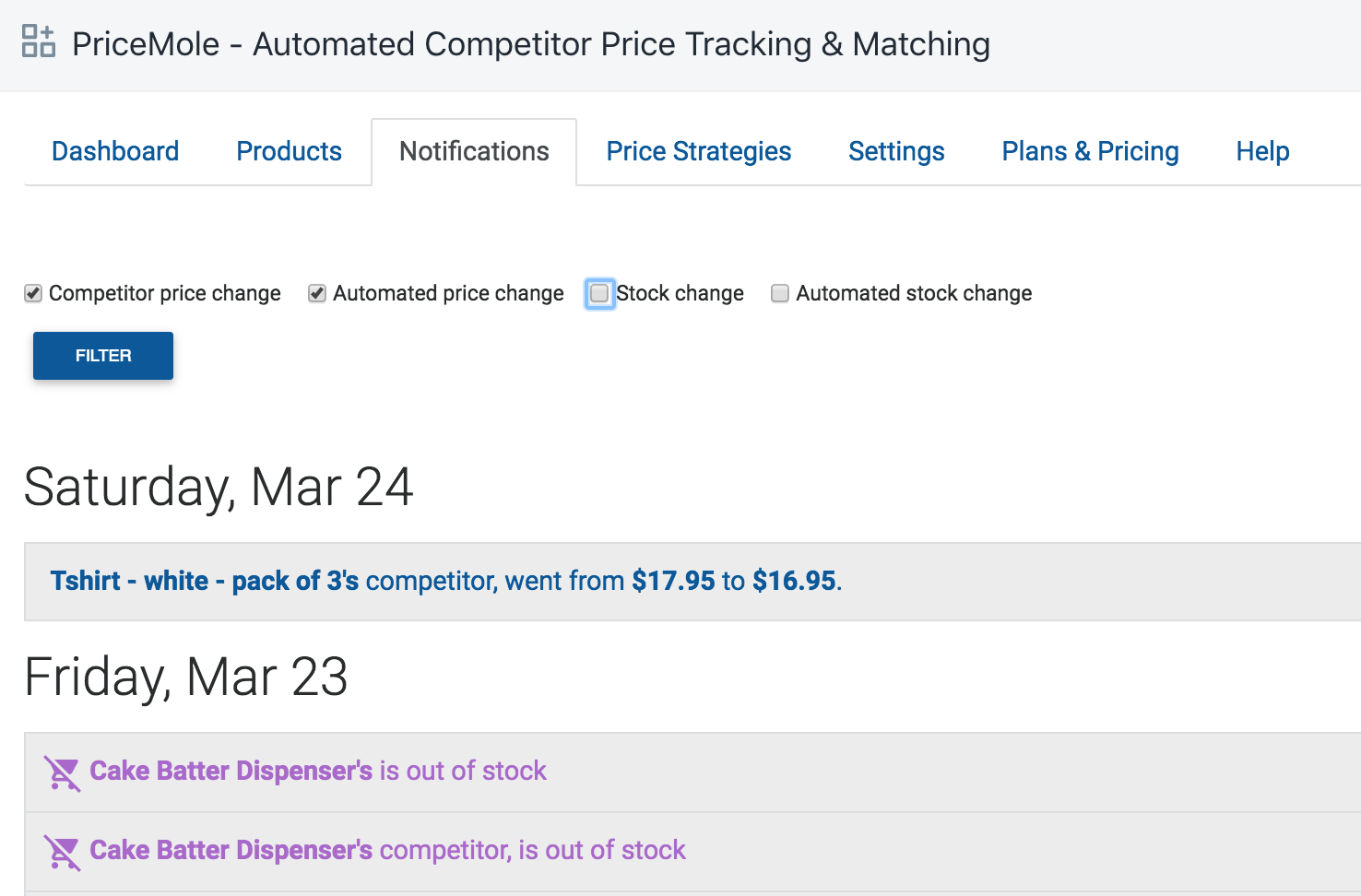 Searching through pages and pages of notifications was timeconsuming. It's much easier to find the notification you are looking for, now that you can specify the type of notification you re looking for.
ADDITIONAL VARIANT SCRAPING AVAILABLE

PriceMole lets you add a variant description so different prices can be detected for different variants. For a while we have been able to grab variants from dropdown selections and clickable. Now PriceMole can now detect additional price variants in tables, variants that have add to cart buttons options, and more.
PRODUCT SKUs AND SEARCH
Some users suggested it would be helpful to be able to search for a product by SKU number. You will now see a table with SKU numbers in PriceMole and have the ability to search for these number as well.
With PriceMole you always know what your competitors are up to. Notification alerts and reports will keep you informed of any changes to prices you are tracking. Pricing strategies will automate your response and keep your prices competitive. Contact us for more details!
Stay tuned and be sure to follow us on Facebook and Twitter for official release dates!